Fluent facilitates smooth downsize for customers with a £1.6m bridging loan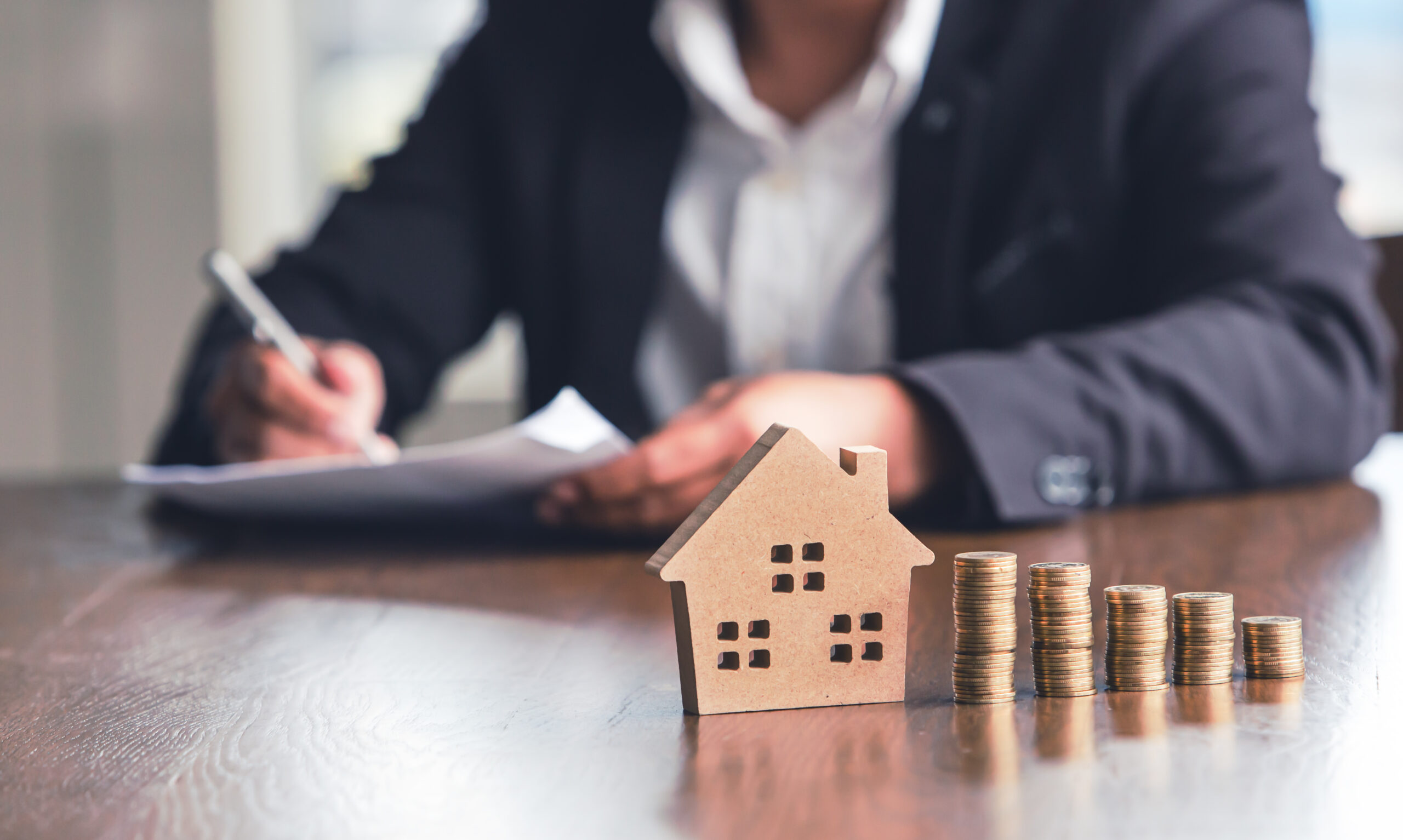 Background
Our bridging division were tasked with providing a bridging loan of £1.6m to assist a couple wishing to downsize. The customers were looking to acquire a smaller home, before selling their current property.
Our customers were a middle-aged couple and had a large family home at a market value of £2.5m. Mr was semi-retired, having sold a successful business and Mrs, was still in full time employment. The couple were wishing to downsize to a nearby property for £1.5m and therefore required a bridging loan of £1.6m to cover the cost of the purchase, stamp duty, fees, and interest for the 12-month facility.
While the couple had substantial savings from property inheritance and share option schemes, they wanted to borrow money to fund the purchase of their new home, rather than use their investments.
As a regulated bridging loan broker, our dedicated team were on hand to provide the couple with advice and talk them through potential borrowing options. After careful consideration, our customers decided to raise funds to purchase their new home through bridging finance.
Fluent's Senior Bridging Adviser, Chetan Hirani assisted the couple throughout the bridging loan application process. As their dedicated case manager, he commented:

"With a good understanding of lending appetite and an extensive panel of lenders to choose from, I placed the deal with United Trust Bank. I also appointed United Trust Bank due to the high level of service they provide and the fact that they would use an online automatic valuation model (AVM) on a property of this value, and ultimately help to keep the costs down for my clients."

However, while this case was relatively straight forward in terms of facilitating a bridging loan to help the couple downsize, the vendor was struggling to get a mortgage due to his payment structure."
The solution
Utilising Fluent's breadth of specialist lending products and experience of regulated bridging, it was evident that bridging finance was the most suitable option for the vendor too, as he required funds much faster than a mortgage could realistically deliver.
Talking through the solution, Chet explained "Our bridging division acted diligently to ensure that both bridging loans were quickly agreed and ready to draw down. This enabled our dedicated lender, United Trust Bank, to quickly facilitate finance for the vendor and the couple wishing to downsize.
As a result, we were able to avoid the chain breaking and the couple were able to downsize to their forever home by borrowing, rather than crystallizing their investments."
That said, Fluent understand that well-advised bridging is very much underpinned by speed, flexibility and high service levels, as this success story highlights.
Paul Delmonte, Key Account Manager at United Trust Bank, commented:
"Working with Fluent on this deal was an absolute pleasure and it's a great example of a strong relationship being key in meeting expectations and enabling cases to complete smoothly. Chetan makes our job a lot easier by going above and beyond to provide clear and accurate information which helps us to progress cases quickly."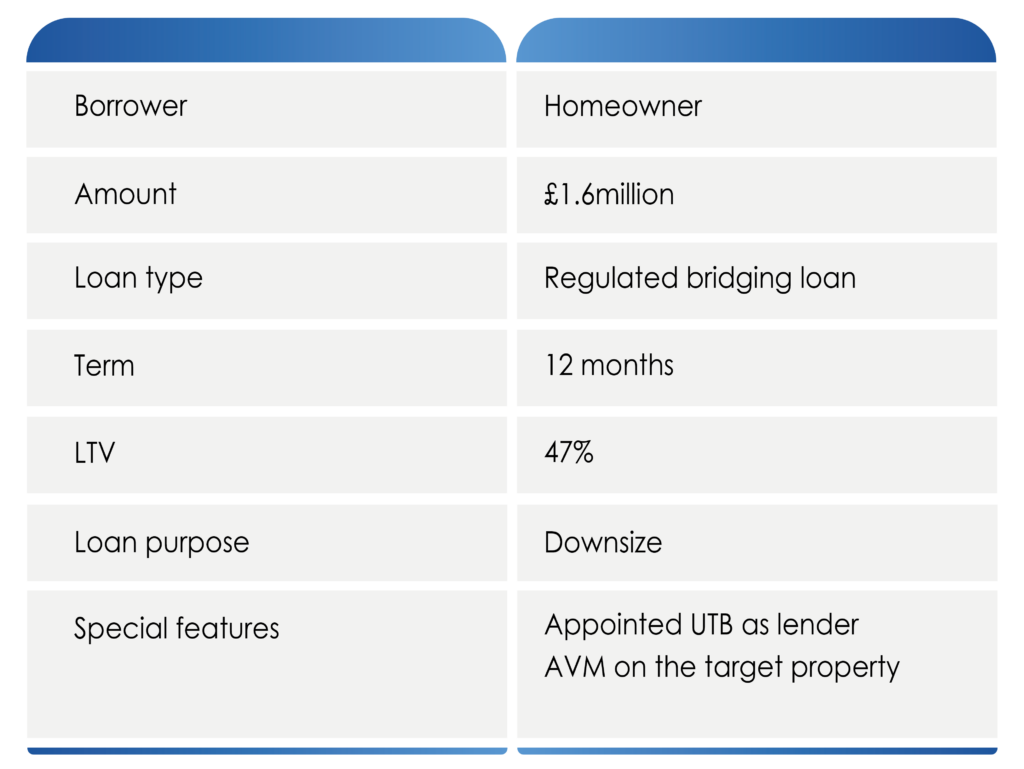 Let us bridge the gap for your clients
Since its launch in 2021, our Bridging division has enjoyed exponential growth. Now in its second year of trading, it's fair to say that our team have developed an industry reputation for providing a personalised and customer centric approach to lending.
Why choose Fluent?
We're friendly UK-based loan experts
Your clients will be assigned a dedicated case manager to help deal with their bridging loan application from beginning to end
We'll keep your clients in the picture
Your client can check their application and loan progress 24/7 with our industry-leading smartphone app
We present you with options, not problems
Having developed an enviable panel of carefully selected lenders, our friendly experts are dedicated to finding the best borrowing solution for your client
Rated 'Excellent' by Trustpilot
Rated .4.8 out of 5* on Trustpilot, you can count on us to deliver a market leading service, for every customer, as seen here: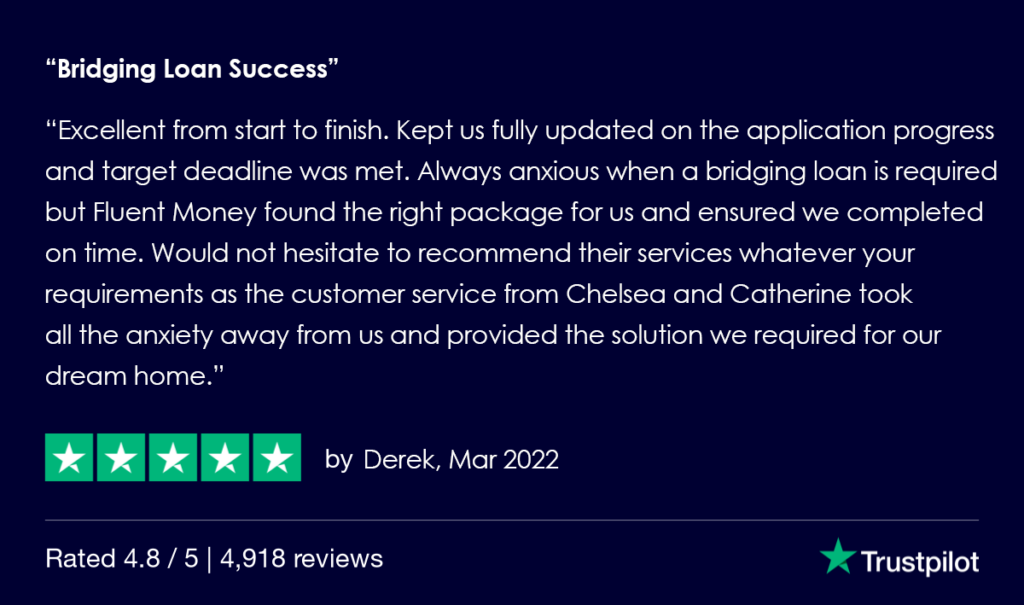 Speed, flexibility and high service levels – it's what we do best
Drawing strength from the wider Fluent Money group, we continue to bring a specialised short-term borrowing proposition to market, having developed an enviable panel of lenders to support your clients and their unique circumstances.
Ultimately, our experienced underwriting team are committed to providing the speed and flexibility needed to help get your clients' projects safely over the line when the timing is critical.
So if your client is struggling to wrap up their property development project or simply need a fast and flexible finance option to bridge the gap, Fluent's bridging division could have the answer. For all enquiries, please get in touch with our broker team.